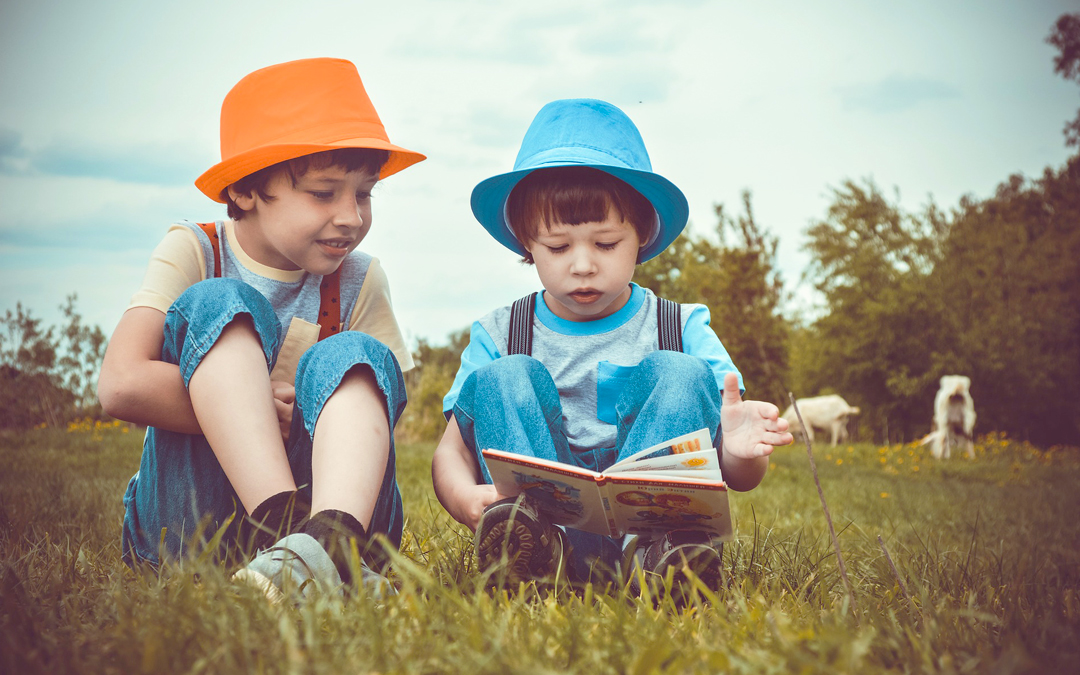 Everybody has heard of the frightening research that supports how students are at risk of losing anywhere from 20%-50% of their skills learned during a school year while on summer break. "It is widely understood that on average students lose academic ground during the summer, a phenomenon frequently referred to as "summer learning loss" or "summer slide" (Kuhfeld 2018). While the need to maintain academic skills is paramount, it is just as important that kids be free to explore the fresh air of the outdoors, so why not combine both!
Reading in the summer should be full of whimsy, accompanied by walks in the park, picnics, spontaneous bike rides and, of course, a good book. Don't forget the sunscreen, beach ball, and a beach bag full of books handpicked from the local library. Make it an exciting excursion by celebrating the end of school year and the beginning of summer by providing an opportunity for your children to stop by the library and spend time selecting a few high interest books before a trip to the park or embarking on a long vacation.
You could also give different formats a try, like listening to an audio book. Nothing makes a long trip more enjoyable than listening to a suspenseful mystery on the way to your destination. Audible.com is one option that provides a large selection of audible bools for a reasonable monthly fee, but there are many other types of audio book programs available online to explore.
Another option is to use that trusty iPad, take a break from some of the games your kids love to play, and instead load up a book that they can enjoy. Often times using the technology your kids know and love can be just the trick to get them interested in reading. If you didn't know, a paid subscription to Hoot Reading not only allows you access to a real teacher for guided reading sessions, but also to a full library of over 500 high-quality books that you can read anytime. Perfect for a summer getaway!
If you're short on ideas of what to pick up, we've got you covered. Below are some summer reading selections that will be sure to please all ages.
Kindergarten to Grade 2 Book Ideas
*With book descriptions and recommendations from the ALSC 2019 Summer Reading Lists. Links to full articles listed below.
The Stuff of Stars by Marion Dane Bauer
A visually stunning and poetic representation of the beginning of our universe and life.
Tiger vs. Nightmare by Emily Tetri
Tiger and her monster gather their courage to fend off a fearsome nightmare in this lushly illustrated graphic novel.
A Big Mooncake for Little Star by Grace Lin Little
The big mooncake that Little Star baked with her mother is so delicious! She's not supposed to eat any until her mother says so, but how can she resist?
Good Night, Planet: A Toon Book by Liniers
After a busy day of play, a girl's favorite toy animal begins his day, befriending a dog, eating a cookie, and exploring the unknown.
Hello Lighthouse by Sophie Blackall Little
Learn about the unique chores of a lighthouse keeper and the function of a lighthouse through delicate text and delightful illustrations.
Whale in a Fishbowl by Troy Howell
Wednesday the whale lives in a fishbowl in the city center, but she belongs in the sea. Can she jump high enough to reach her joy?
Grades 3-5 Book Ideas
*With book descriptions and recommendations from Teaching Made Practical and Understood.org. Links to full articles listed below.
Paws of Courage: True Tales of Heroic Dogs That Protect And Serve by Nancy Furstinger and Ronald L. Alello (Foreword)
This book tells the stories of over 20 real life service dogs. The stories tell of the heroic ways real dogs help serve and protect humans, and the special bonds many humans have with their service dogs. There is information given about different dog breeds and the characteristics that make them extra special.
"
Finding Winnie: The True Story of the World's Most Famous Bear by Lindsay Mattick
This book tells the true story of the bear that inspired A. A. Milne to create the character Winnie-the-Pooh. This is written by the great-great-granddaughter of Harry Colebourn, the Canadian soldier that rescued a small black bear at a train depot. The story tells of the friendship between Colebourn and the bear he names Winnie, the journey Winnie takes from Canada to England, and how Winnie ends up in the London Zoo and meets a boy named Christopher Robin.
Nubs: The True Story of a Mutt, a Marine & a Miracle by Brian Dennis, Kirby Larson, and Mary Nethery
This book tells the heartwarming story of an Iraqi mutt that meets Marine Major Brian Dennis, one of the authors of this book. Brian and the dog form an instant bond, and Brian and some other marines give attention and care to the malnourished dog. When the Marines are relocated to a base 70 miles away, Brian thinks he will never see the dog that he affectionally called Nubs again. But Nubs incredibly makes a long journey across the desert to find Major Brian. Since the Marines are not allowed to keep pets, Brian raises funds to help him keep Nubs.
The Adventures of Captain Underpants by Dav Pilkey
George and Harold are two prank-loving kids. They've created a superhero comic character who flies around in his underwear and a cape, and now they're going to bring him to life. The Adventures of Captain Underpants is the first book in the mega-bestselling Captain Underpants series. Filled with zany humour and—yes—some potty talk, each book has short chapters with hilarious pictures on every page. You're not likely to find a more engaging set of books for reluctant young readers.
Dinosaurs Before Dark: The Magic Treehouse Series by Mary Pope Osborne
Jack and Annie have discovered a magical treehouse filled with books that transport them through time and space. In Dinosaurs Before Dark, the first book in Magic Treehouse series, Jack and Annie magically travel back to the age of dinosaurs—but they need to find a way to get home. The books in the Magic Treehouse series contain a mix of facts and fantasy. Great story lines, large print and short chapters make these books a smart choice for the reluctant reader.
Clementine by Sara Pennypacker
In this first book of the Clementine series, the main character finds her friend Margaret crying in the school bathroom because she got glue stuck in her long brown hair. Clementine offers to help Margaret cut her hair and ends up getting blamed for everything. Many kids can relate to Clementine, who tends to act impulsively and often feels misunderstood.
Works Cited
Ahubbard. (2019, May 17). ALSC 2019 Summer Reading Lists. Retrieved June 4, 2019, from http://www.ala.org/alsc/publications-resources/book-lists/2019-summer-reading-list
Baker, K. (2019, June 01). Nonfiction Books for Students That Love Animals. Retrieved from https://teachingmadepractical.com/nonfiction-books-for-students-that-love-animals/
Kuhfeld, M. (2018, July 16). Summer Learning Loss: What We Know and What We're Learning. Retrieved June 5, 2019, from https://www.nwea.org/blog/2018/summer-learning-loss-what-we-know-what-were-learning/
Osewalt, G. (2015, April). 12 Great Books for Reluctant Readers in Grades 3–5. Retrieved June 5, 2019, from https://www.understood.org/en/school-learning/learning-at-home/encouraging-reading-writing/12-great-books-for-reluctant-readers-in-grades-3-5