Is Your iPad a Friend or Foe This Summer?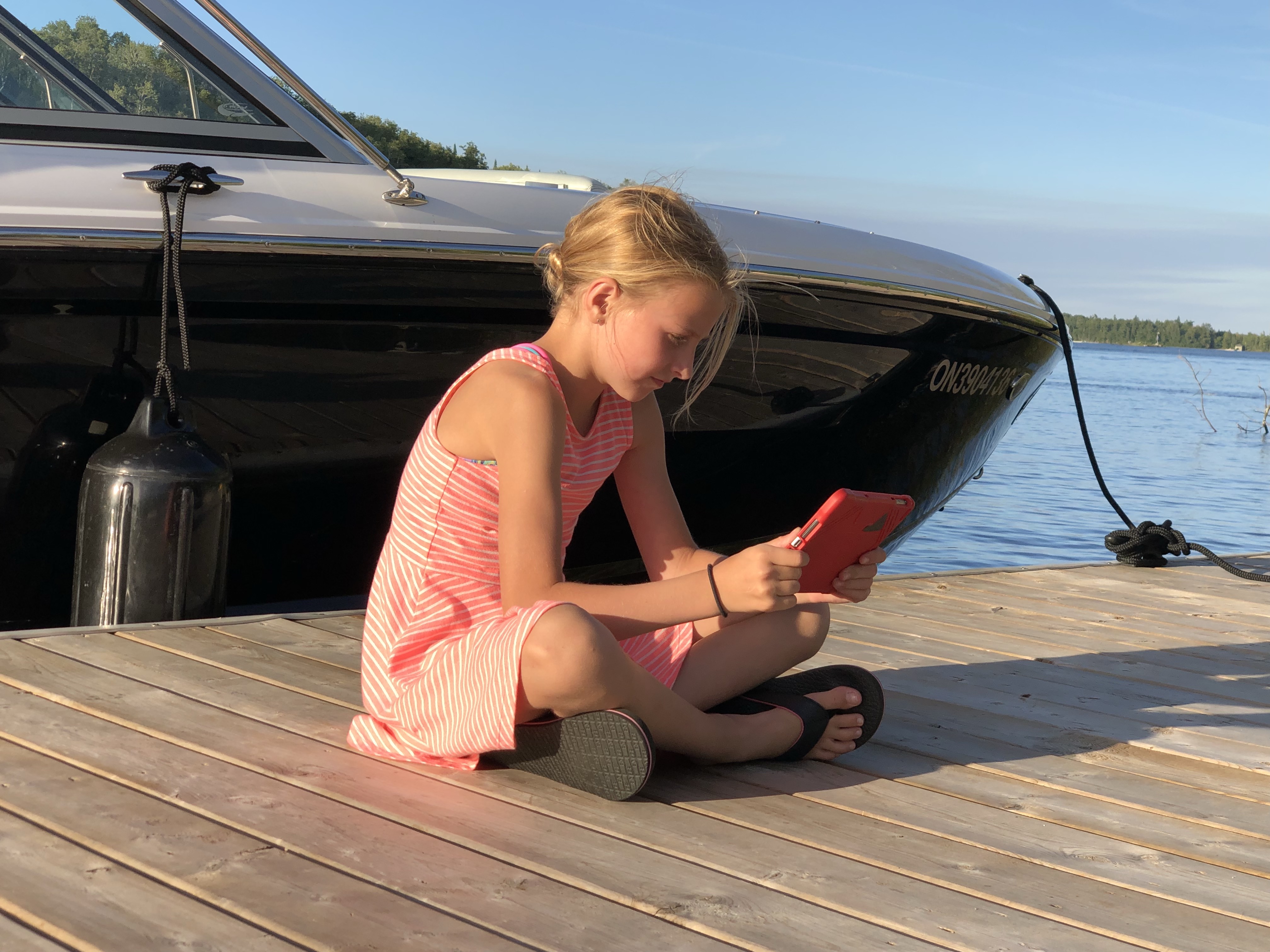 It's August. August? How did that happen? We are facing a new school year, which as a parent of a 6- and 8-year-old I am simultaneously saddened about (where has the time gone?) and relieved by (these kids need to get back to school!).
As the end of summer approaches, it's time to start thinking about preparing for school. Are the kids ready? Not just in terms of getting their stuff ready (school supplies, anyone?), but also emotionally and academically. One thing we talk about a lot at Hoot is the summer reading slide. Again and again, research shows that most emerging readers return to school in September having lost about two months' progress since they left off before the summer.
I have a confession to make. You know how they say the child of a dentist is the most likely to get cavities and the child of the psychologist is the most likely to need therapy? Well, in my case, the child of the educator is the most likely to have let their reading slide over the summer.
Between sleepaway camp for my daughter and a family trip for all of us, my family has done NO guided reading this summer. NONE. Guided reading is where a child reads out loud with a grownup who helps them work through a book that is at their reading level, rather than being read to.
My son is starting grade 1 this fall, and his decoding skills were just over the tipping point at the end of kindergarten. Last week we sat down with his Bob books and I asked him to read to me, and I noticed a huge backslide in his abilities.
My son adores the iPad. He is constantly asking for more "iPad time" and is definitely notthe kid who is going to choose a book over the iPad. Obviously there are lots of non-digital ways to beat the summer slide. In fact, at Hoot, we recently released a report outlining eight fun strategies to help you fight the summer slide and have your child start the school year off right. However, here are some ways to actually use your kids' "Can I play on my iPad?"pleas to your advantage. Here are my top four:
Be intentional in your app choices: Probably the easiest way to use iPad time to your advantage is to choose apps that are intentionally designed to promote literacy. The challenge is that the app stores are overwhelming, and a lot of reading games are what we in the industry call "chocolate covered broccoli" — aka, thinly disguised educational software that is boring for the child. But there definitely some apps that are research-based, take advantage of the medium, and, most importantly when it comes to summer reading, are FUN! My personal favorite is Teach a Monster to Read, but Common Sense Media is a good resource to research apps. Side note – don't try and pretend to your child that they aren't learning. They are too smart for that, and regardless, at this age they really like learning! If the game is well-designed, your children will ask you to play it; if they aren't, then it probably isn't worth your time.
Download some reading-heavier games: This is a great strategy for older kids who are already reading but need to keep up their practice. My daughter falls squarely into this category – she is an adept decoder, but often reads so quickly that she doesn't think about what she is reading, which impacts her comprehension. An interesting little tidbit: app developers work really hard to make games for young children completely free of written words, which is a good design decision because young children can't read. But as kids get a bit older, written instruction can be a great opportunity to flex their growing reading muscle. I noticed that my daughter would often see a chunk of text in an app and ask me "What do I do know"? Simply encouraging her to read it and tell me what she thinks she should do next. And the good news is, a lot of these games are FUN. Your child needs to read to know what to do, and she is working on her comprehension and ability to follow written directions, which are important skills to develop around grade 3.
Be a role model: As my kids get a bit older, I have recently entered a new realm where I actually have time to read books again. Hurray! But an interesting challenge that I have noticed is that, because I read digitally, the kids actually don't necessarily know that I am reading instead of just "playing on my phone." I tried reading "real" books, but I find reading on my phone so much more convenient. So the solution, which has actually worked pretty well, is to announce when I am reading and make a conscious effort to talk about what I am reading to my kids. When I am reading on my phone, I literally announce "I am reading my book on my phone now." Then, I make a effort to talk about what I am reading with my kids. It's actually been fascinating to hear how interested they are.
Make screen time reading time: If your child is like my son, and constantly asking to "play on the iPad," try saying yes as long as they use it for reading. One of the things that blew me away when we piloted Hoot was that some kids were more excited about reading simply because it was on the iPad, so you may as well use that appeal to your advantage! There are some really great ebooks apps that present beloved stories in unique ways. Epicis a great option that offers a huge library of digital books, learning videos and quizzes. Or try Hoot! Our app offers 1:1 online reading practice with real teachers, and the 20-minute guided reading sessions are easy to schedule and can be can be completed anywhere with an iPad and wifi.