Pandemic Learning Loss and Its Impact On Early Literacy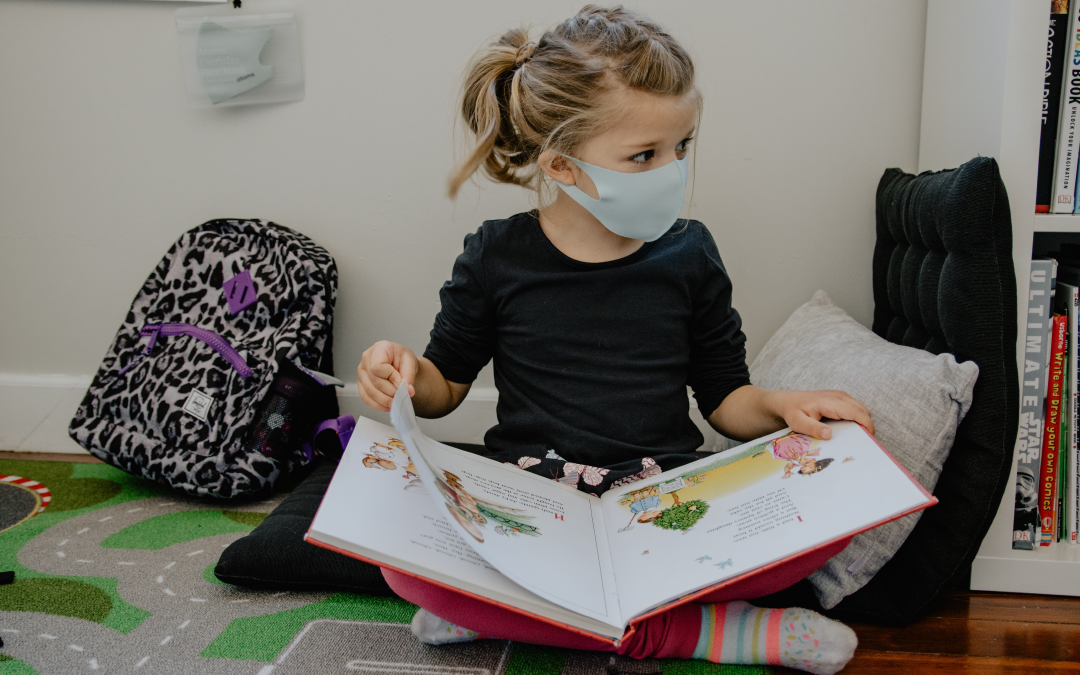 As the new and uncertain back-to-school season is well underway and children are returning to in-person learning, there's a looming sense of urgency that the educational system needs to do better in this extended schooling crisis. The skills and knowledge gaps that children are experiencing because of the highly interrupted school year continues to weigh heavily on parents. And experts say, these skill gaps may have the greatest impact on the youngest learners, those in the formative years of learning to read.
A new study by researchers at the Stanford Graduate School of Education found that students currently in second and third grade are now approximately 30% behind what would be expected in a typical year in reading fluency. Growth stalled when schooling was interrupted and remained stagnant through the summer," said Ben Domingue, an assistant professor at Stanford GSE and first author on the study. And for early learners entering kindergarten and 1st grade, creating a language-rich environment for 20+ students on Zoom or Google Classroom has been very challenging for teachers, largely impacting reluctant readers, who may not spend enough time practicing reading at home.
Assessing the negative effects of the pandemic on children who may not have developed their reading skills as well as expected is vital, many experts say, as students return to school. That's because early literacy, the development of skills needed to transition from learning to read to reading to learn, is foundational to later academic success. Studies suggest that many children have lost momentum on these fundamental skills.
The time for learning recovery is NOW.
Children who haven't grasped reading by the time they enter third and fourth grade, when word problems are numerous, and reading comprehension is key, might face significant learning challenges. Children who fall behind developing reading skills can subsequently struggle to keep up throughout their academic life. According to the Stanford report, "there is a concern that inadequacies in reading instruction during the pandemic might have cascading effects for years to come."
How can parents help close these gaps as quickly and effectively as possible?
Educational experts recommend high dosage reading support in the form of tutoring, summer school, after-school instruction, extended school hours and various online programs. This is certainly a good start, but it's important to also acknowledge that much more than learning has been lost in the past year. Students have been disengaged from school, losing motivation and connections to one another and their teachers. In addition to reading support, an equally key priority is rebuilding children's focus, confidence and social skills.
Children can make significant reading gains with high dosage reading support.
Meeting these challenges will require reading programs designed with a combination of consistent, personalized, high dosage support and real time, live, one-to-one intervention and connection. Programs that focus on fun, building relationships and personalized engagement will win young learners over and produce reading gains that parents want to see.
Parents hoping to accelerate their children's reading skills as quickly as possible may be tempted to invest in academic strategies that overemphasize the transfer of knowledge. However, parents should take caution, or risk overwhelming their child. In order to advocate for a child's learning success, parents should take a thoughtful, strategic approach with holistic learning solutions that develop a success plan for their child – a plan that identifies the supports and opportunities both inside and outside of school.
We cannot rely solely on the education system.
It's becoming increasingly clear that schools need to replace their one-size-fits-all factory model, which treats children as if they all have identical needs and challenges. Now more than ever, every child needs to be seen, understood and responded to individually in order to thrive. According to the Journal of the American Medical Association, over 20% of parents of children ages 5 to 12 reported that their child showed an overall worsening of their mental or emotional health during the pandemic. The experiences children have had during this pandemic are variable, from those who have had two working parents at home assisting them with learning to those whose parents have been afflicted by COVID, unemployment, and housing instability, resulting in an increase in mental and emotional issues as well as their children falling off the education grid altogether. A general learning approach isn't going to work for these children. It wasn't working well before the pandemic. Instead, we parents must advocate for their children with a more personalized approach, as individuals, and give them what they need. Every child needs to hear and feel "I see you!"
Exacerbating the issue, educators inside the classroom have many daunting challenges ahead as students return to school. Teachers are exhausted from the difficulties of juggling and adapting for the last two school years. It is equally unfair and unproductive to load the entire burden of children's learning recovery onto school educators.
Where to start?
As parents ourselves, we understand how important it is to advocate for our children's learning success. At any opportunity in this new school year, start with reconnecting, relationships, activity, and inspiration. Work with educators to build toward individualization and success plans. One size does not fit all. It's time educators drive a major, personalizing, humanizing reform in education, one that truly and immediately focuses on advancing the well-being of our children.
Hoot Reading can help.
Children today simply cannot wait for a redesigned educational system that offers a major, personalizing, humanizing reform in education. Evidence-based live tutoring is proven to be one of the most effective interventions to address learning loss, and the Department of Education recommends it as an appropriate strategy to learning recovery. Live human tutoring can result in classroom test scores 35% higher than asynchronous learning platforms. Hoot Reading programs meet each child where he or she is at and gives them the support they need to thrive this school year. With 1:1 online reading support, combined with engaging classroom teachers, Hoot can help accelerate learning recovery in just a few months.
Try a free lesson today.