Meet Our Teachers: Ms. Virginia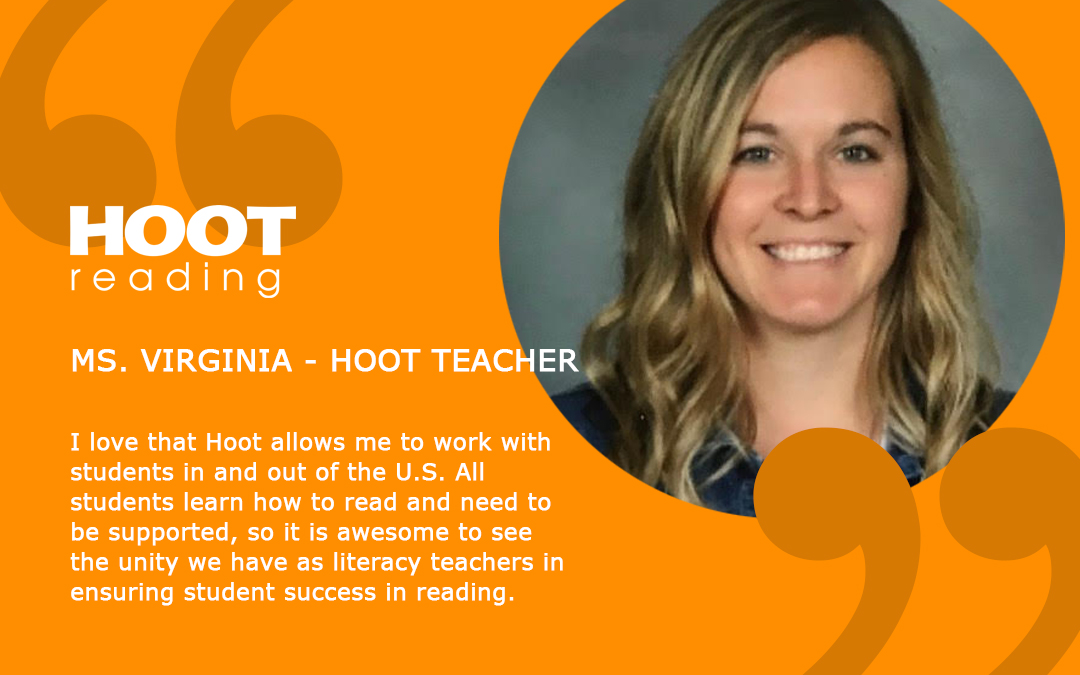 Virginia loves teaching children how to find their love for reading. She graduated with a Bachelors in Elementary Education from Michigan State University. She has taught first grade, second grade, reading recovery, and is now currently an elementary reading specialist. Her absolute favourite thing is equipping her students with the tools they need to be a successful reader. Every Child is a Reader!


In her spare time she enjoys spending time with her family and watching her two boys play sports. She also enjoys reading and the beach 🙂
When did you know you wanted to be a teacher?
I knew when I was in the third grade. I had the most amazing and patient teacher that inspired me to want to help students learn to read. I struggled as a kid and this teacher was able to build my confidence and allow me to soar as a reader.
What's your favourite thing about guided reading?
I love watching students use their strategies to decode tricky words. It is so amazing to watch readers grow in both fluency and confidence as they read.
Why did you become a Hoot Teacher?
I absolutely LOVE to teach reading. I do it all day long and just felt like I could offer students support from home while they are practicing their nightly reading.
What do you love about the Hoot program?
I love that Hoot allows me to work with students in and out of the U.S. All students learn how to read and need to be supported, so it is awesome to see the unity we have as literacy teachers in ensuring student success in reading.
What do you love doing in your spare time?
I love watching my two boys play sports that they love. We enjoy going to sporting events as a family and traveling to see new baseball fields around the U.S.
What are your favourite kids books and why?
My favourite kids books are Bella and Rosie. I feel that all kids love and can relate to the situations that Bella and Rosie get themselves into. I really enjoy watching the students become so engaged with good story books.
<iframe src="https://webapps.9c9media.com/vidi-player/1.7.8/share/iframe.html?currentId=1710029&config=ctvnews/share.json&kruxId=ImoeZsch&rsid=bellmedianewsprod,bellmediaglobalprod&siteName=CTVNews&cid=%5B%7B%22contentId%22%3A1710029%2C%22ad%22%3A%7B%22adsite%22%3A%22ctv.ctvnews%22%2C%22adzone%22%3A%22embed%22%7D%7D%5D" width="560″ height="315″frameborder="0″ allowfullscreen></iframe>
Earlier this month, Hoot Reading was featured in a a segment called Tots to Teens on CTV Morning Live Winnipeg, and Ms. Virginia makes an appearance in the interview! You can watch by clicking the video above.