Meet Our Teachers: Ms. Karla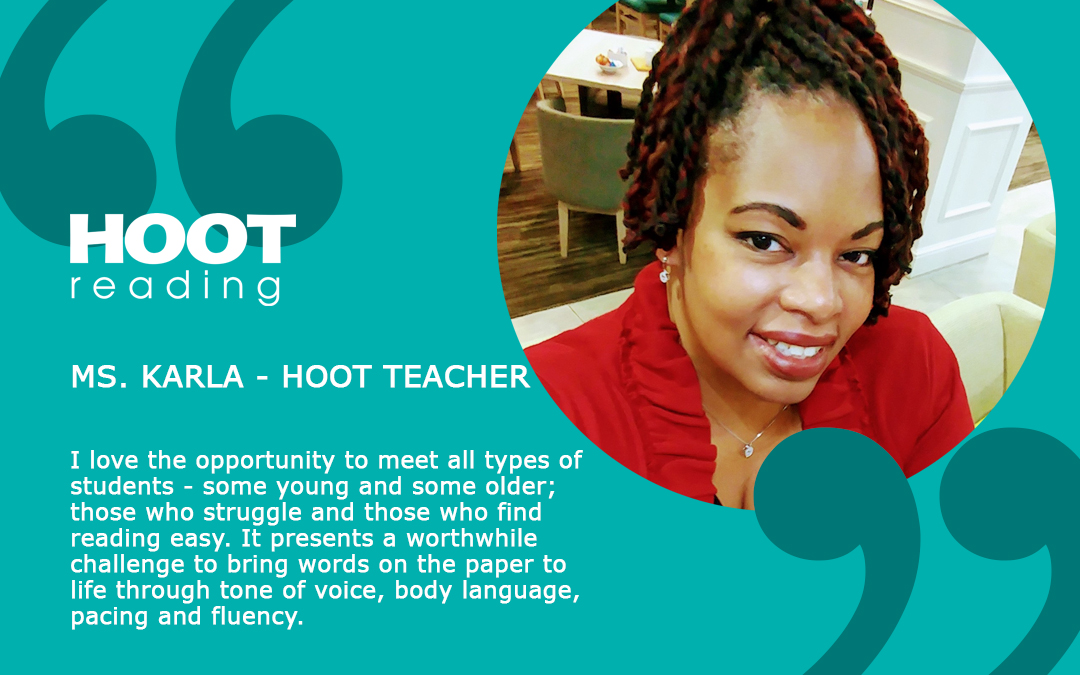 Ms. Karla is currently an English Language teacher who has worked in the Baltimore Public County School system for 27 years. In the past, Ms. Jackson attended Penn State University, where she earned a Bachelor's degree in English. In addition, she went on to earn a MAT (Master's in Teaching) in English and a MA in English from Binghamton University. In 1991, she began teaching for the Baltimore County School system, also adding an ESOL/ELL certification under Maryland State Education in 2015. She has also worked closely with Special Education as a support for many years and is also currently a tutor for students from China.

Ms. Karla believes in differentiation and equity for ALL learners. Her core beliefs are that each student is gifted with a unique set of skills and experiences that enhance learning and contribute to a rich learning environment. Each student deserves to participate on some level in designing their own education. The classroom should be faciltated by a passionate instructor with clear guidelines that allow students to stretch and grow. During her free time, she loves to sing, play games, and spend time with her four, beautiful children. She can't wait to meet her new students and take them on a learning adventure! Ms. Karla's goal is to help students learn, have fun and become confident readers, writers and speakers of the English language.
When did you know you wanted to be a teacher?
I decided to be a teacher when I was a sophomore in college at Penn State. I had to change my major from Business to English. As my love for poetry, creative writing, and all things "writing and reading" increased, I wanted to share the same love for the spoken and written word as I had with others.
What's your favourite thing about guided reading?
I love watching the "ah-ha" moment when the kids read a text and begin to "get it".
Why did you become a Hoot Teacher?
I love kids and I love English. I always feel that my purpose is to show kids that they are capable of learning how to read, write, and express themselves with confidence.
What do you love about the Hoot program?
I love the opportunity to meet all types of students – some young and some older; those who struggle and those who find reading easy. It presents a worthwhile challenge to bring words on the paper to life through tone of voice, body language, pacing and fluency. Until a child can mastery fluency, they miss some of the more understated meanings that make reading so satisfying and enjoyable.
What do you love doing in your spare time?
I love reading at the beach in Florida and spending time travelling with my four beautiful children and wonderful husband of twenty-five years.
What are your five favourite kids books and why?
1) The Land of Stories by Chris Colfer: The author artfully manipulates the original nursery rhymes into a new and exciting drama.
2) Mrs. Frisby and the Rats of NIMH by Robert C. O'Brien: Reminds me of the intelligence and microcosm of the world in Animal Farm, but not as complicated.
3) Are you There God? It's Me, Margaret by Judy Blume: Best coming of age story ever!
4) Lemony Snicket's A Series of Unfortunate Events by Daniel Handler: This book provides satisfaction to any reader who has a keen curiosity for the unbelievable events that could maybe, really happen to some poor, unsuspecting human!
5) Sadako and the Thousand Paper Cranes by Eleanor Coerr: This book allows you a glimpse into the life of one little girl's painful journey through love, loss, pain and death.