Meet our Teachers: Ms. Cristina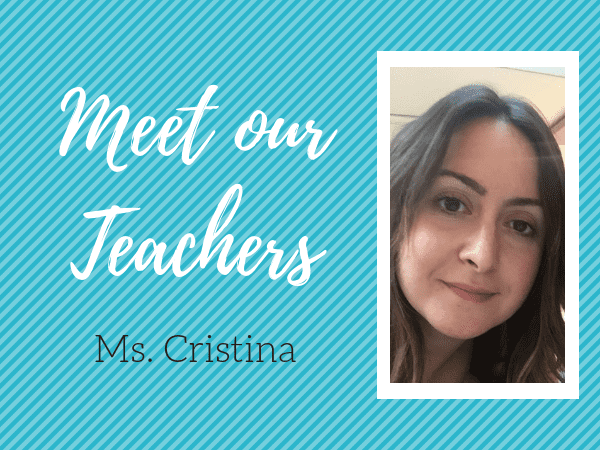 Ms. Cristina has been a Hoot teacher since Spring '18 and in addition to teaching her regular Hoot students, Cristina is our lead teacher for our Hoot Reading Assessment and reporting. Cristina has been teaching for about 9 years and is currently a Resource Teacher in a Nursery-Gr. 6 elementary school. In this role, she primarily supports students in reading, writing and math. She has a B. Ed degree and her Post Baccalaureate in Special Education from the University of Winnipeg
When did you know you wanted to be a teacher?

When I was a little girl, I set up my pretend classroom with my pretend students and "taught" them everything I knew. I've always loved teaching others, seeing their progress over time and sharing my knowledge with others.
What's your favourite thing about guided reading?

Guiding a child's reading is so important especially as they learn how to become independent readers. It is a gift to see how their hard work and practice enables them to develop further and seeing the improvement is amazing. Essentially, guiding a reading session allows teachers to scaffold learning and meet the child at their level in order in foster their reading skills.
Why did you become a Hoot teacher?

I loved the idea of Hoot because it combines an innovative idea with a traditional skill that everyone needs. The app allows students to use technology in an educational way. I love that I can work from anywhere and still make a difference.

What do you love about the Hoot program?

Hoot is new, innovative and effective. I have seen student progress in a short amount of time and believe in the program. Students are engaged and they look forward to the sessions (just like I do). It is a great program for parents, teachers and students alike.
What do you love doing in your spare time?

I love reading (of course). I also love spending time with my family, traveling and crafting.
What are your five favourite kids books and why?
Goodnight Moon

Where the Wild Things Are

If You Give a Mouse a Cookie




Rumble in the Jungle

Any Curious George Book!
I love them because they are creative and now my 4 year old loves them too!