Hoot Reading Announces New Vice President of Literacy, Caitlin Mehra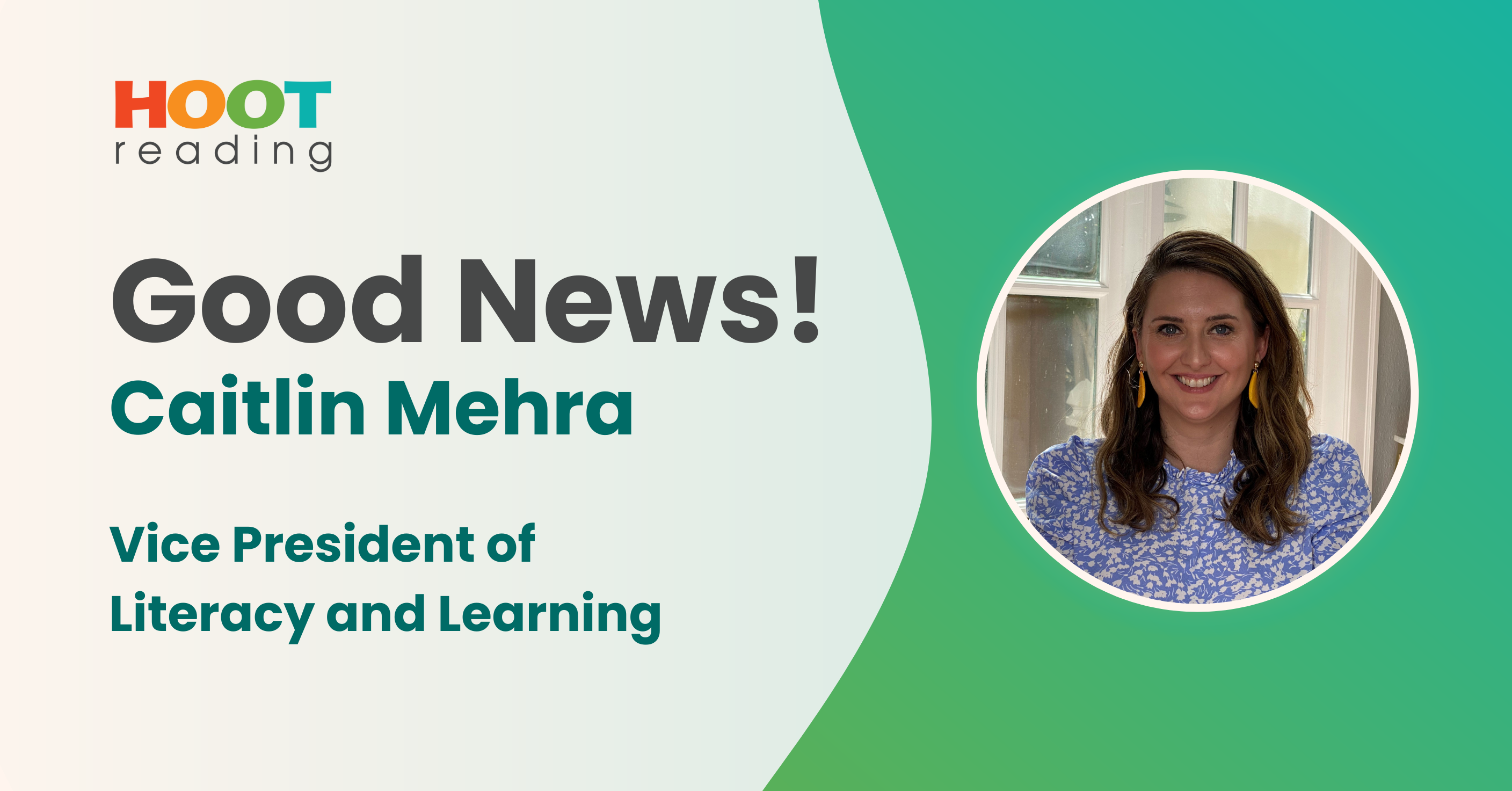 Hoot Reading, a leading online tutoring service, announced the appointment of Caitlin Mehra as the Vice President of Literacy. Caitlin brings over a decade of experience in literacy instruction, teacher training, and reading intervention.

"Hoot Reading is unique in the tutoring space, as we have a deep focus on literacy. Bringing Caitlin onto our executive team is an investment in our commitment to ensuring that literacy gains are made by each and every student who goes through our program. Caitlin's unique expertise will be an incredible asset to the entire Hoot Reading program, including our curriculum, pedagogy, progress monitoring, assessments, professional development, and library of resources. It has been game-changing working with Caitlin and the wonderful team at LitLife for the last year to ground our program in the science of reading, and we are thrilled to make this official."
-Carly Shuler, Co-Founder at Hoot Reading
Prior to directing Hoot Reading's educational vision and strategy, Caitlin served as the CEO of LitLife PD. LitLife PD is an American consultancy firm partnering with schools, school districts, and social impact organizations to provide evidence-based coaching and instructional support to promote literacy achievement for students in PreK-12. As the CEO, Caitlin led teams to deliver leadership coaching, curriculum implementation support, and on-sight professional development for school districts across the United States, and internationally.
Caitlin has worked as a bilingual reading interventionist, working intensively with students in both school and home settings to deliver targeted and personalized reading instruction in English and Spanish. She understands what it takes to teach a child who is just getting started to read, or is struggling to read, and the power of effective 1:1 tutoring in remediating and preventing reading difficulties.
"I am grateful for the opportunity to join Hoot Reading's leadership team and to further its mission to change children's lives through literacy. My goal is to equip Hoot Reading's fantastic teacher network and our educational partners with the highest-quality instructional materials, professional learning and student-level data so that we can best serve every child we meet."

-Caitlin Mehra, Vice President of Literacy at Hoot Reading

About Hoot Reading
Hoot Reading is the leading online tutoring service providing 1:1, evidence-based literacy instruction with qualified teachers. Incubated on a research project at the Nokia Research Lab with Sesame Workshop (the creators of Sesame Street) and the Joan Ganz Cooney Center, Hoot Reading partners with school districts across North America to change children's lives through literacy. Visit www.hootreading.com to learn more.