Screen-Time: We Give a Hoot – App Spotlight on Edoki Academy's Montessori Preschool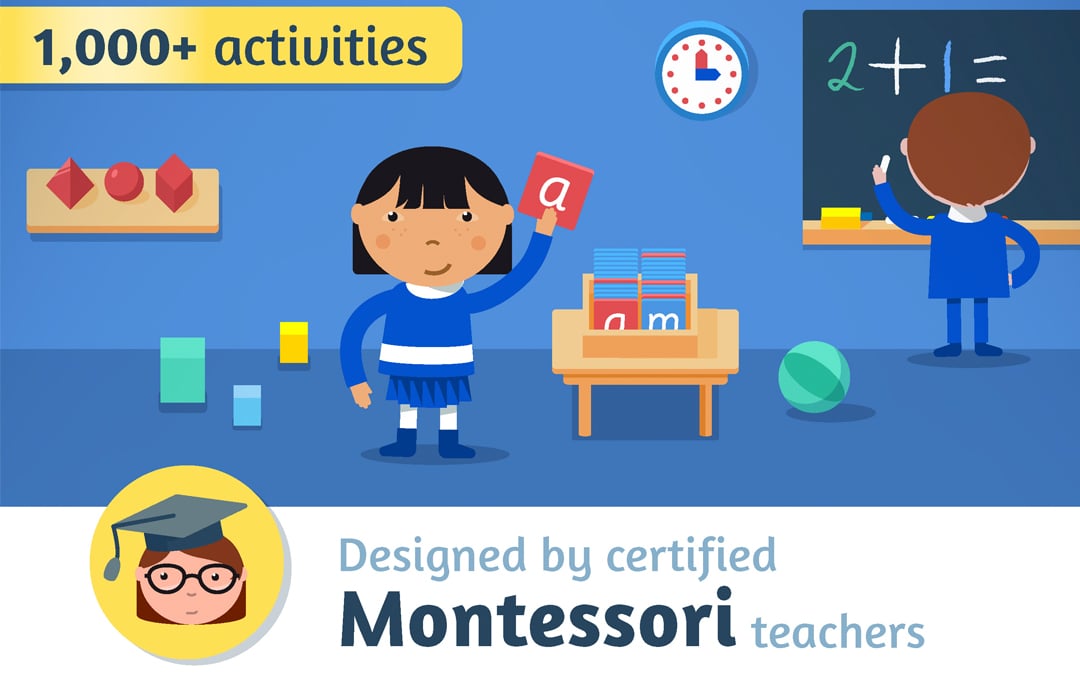 A few weeks ago, we introduced a new series called Screen-Time: We Give a Hoot. This series will highlight apps for children that are high-quality, safe, and fun. Each month, we will highlight a new developer, and learn about their apps, why they made them, and a bit about their companies and them as a person.
We're excited to introduce to you the second app in our series – Edoki Academy's Montessori Preschool! We hope you enjoy getting to know more about this app and Co-founder, Valérie Touze.
Tell us a bit about you – your name, location, background, how you came to be in the app space and where you are today. Anything you want to share with us here … all about you!
My name is Valérie Touze. I am a certified Montessori teacher for three to six years old and I co-founded Edoki Academy with the intent to transpose as much of the Montessori pedagogy as possible onto tactile tablets.
For me, the iPad (and other tablets that followed) made technology available/accessible to young children, as it made the mouse disappear (compared to a PC). Being a mother of four I had also noticed how kids were drawn to smartphones and tablets and thought that it would be a good idea to offer parents intelligent screen time.
Tell us a bit about Edoki Academy. What do you do?
Edoki Academy does everything from conception to marketing the app. We have dedicated teams who focus on creating new games/content that is engaging and educational. We have localization teams who translate the content. We have graphic designers and a coding team who turn the idea into a digital game and then we have a marketing team.
What's the "why" behind doing what you do?
Our aim is truly to offer quality educational content AND to make the Montessori way of learning accessible to more children. In North America, there are a lot of Montessori schools, but in Europe there aren't that many and they are very expensive, reducing the number of children who can benefit from them.
Even though parents are our clients (they are the ones buying the app), we place the child at the center of everything we do. That is why we decided a long time ago not to have ads in our apps for instance.
What do you think is the key to having a successful app?
The success of an app depends on its content and then its marketing. You can't have one without the other. Good content with a well designed UI and a good balance between fun and education is vital to make children want to come back to it. To ensure this, we constantly test our concepts with children, they are the ultimate decision makers!
Good marketing is essential to get downloads because a lot of good apps never get noticed.
If you manage to get these two key factors, then word of mouth and SEO picks up.
Tell us a bit about your app. What is it called? Who is it for?
Montessori Preschool is a subscription app offering a variety of games/activities to children in the three to seven years old age group. It is available in English, Spanish, Chinese, French, German and Korean, thus also offering the possibility to learn in different languages. The app covers basic learnings like colours, shapes, letter sounds, letter names, tracing letters and numbers, up to reading sentences and counting to 10, 000. Most of the learning is done with the help of Montessori material (like the golden beads to count in thousands).
This app can be used at home or in school.
W hat makes your app special or unique?
We update the app every eight weeks to add new content, but also to customize it according to the calendar. As a teacher, I know how important it is to help children memorize the time sequence and seasons/events is one way of helping them. We usually change the icon and the home page of the app to make it look more like winter, autumn, spring, and summer, and we add fun activities around Halloween, Thanksgiving, Easter, etc. We also add games according to the feedback we receive from users.
With so many new additions per year, children never get bored and they keep on learning and having fun. From a parent perspective, I find that it compares to old-fashioned magazine subscriptions. The app functions perfectly offline so it can be used in the car, and on the train or plane, which makes it ideal for long journeys.

Where do you see your brand going in the future?
We are one of the few publishers in the kids space that hasn't tried a new area, whether it be books, toys, or merchandise. We are focusing on growing our user base and adding more languages. We want Edoki Academy to be the reference in terms of digital Montessori content.
We're all about books so we've gotta ask – what are your top three favourite books?
My favourite children's books would have to be anything by Dr. Seuss or Roald Dahl, and The Wizard of Oz.
A big thank you to Valérie and everyone at Edoki Academy for taking part in our series! You can learn more about Edoki Academy by

visiting their website

.