Advancing Literacy Outcomes Beyond School Hours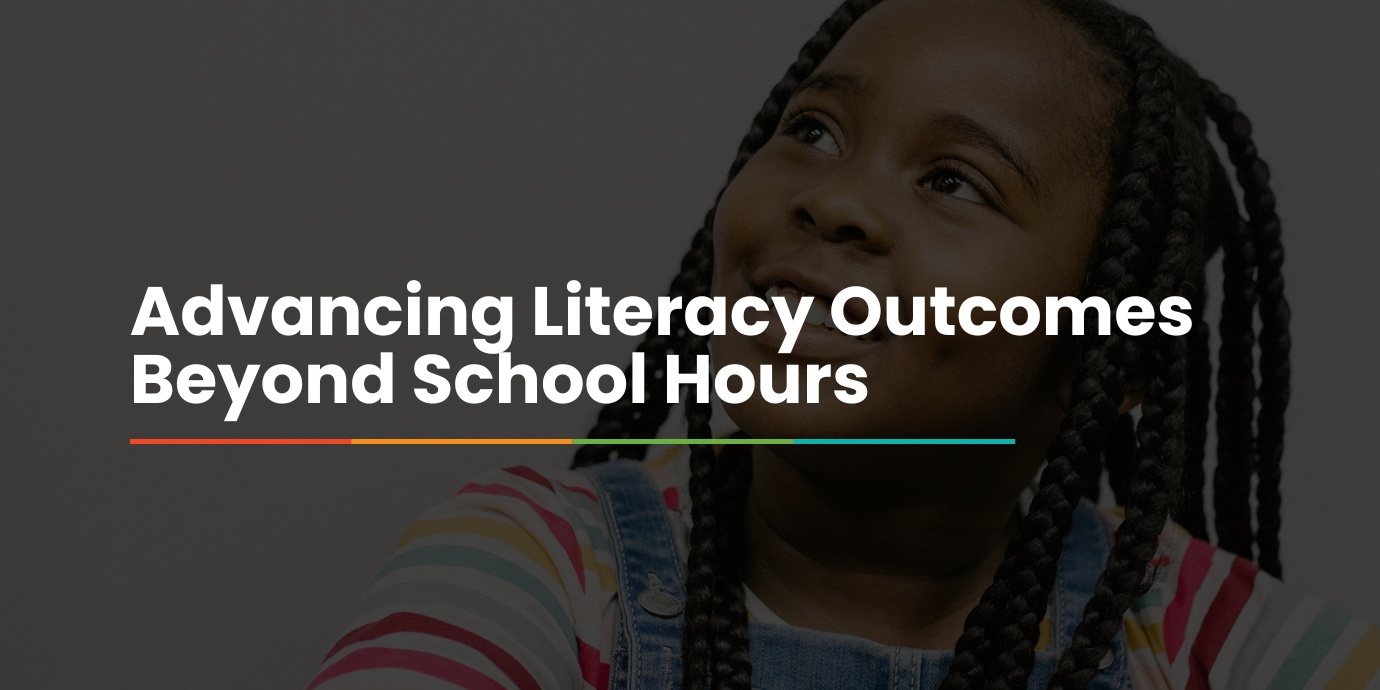 School districts, after-school programs, and charitable organizations are turning to high-dosage tutoring programs beyond school hours to advance literacy for students across North America. When organizations provide evidence-based tutoring outside of school hours, we see:
Teacher efforts amplified;

Increased reading scores; and

Improved attitude and confidence toward the task.
School districts need to prioritize tutoring programs that are evidence-based, inclusive, and engaging to achieve these results,

Three successful ways to implement literacy programs that help foster engagement and
material reading gains.

Prioritize teachers in tutoring programs to strengthen literacy outcomes.
Research proves that teacher-led tutoring sessions provide the highest ratio of learning outcomes. Unlike tutors, teachers require specialized training and pedagogical knowledge that gives them a more remarkable ability to tailor and deliver content to students.
Additionally, decades of research show that access to qualified teachers directly impacts a student's long-term educational outcomes. By prioritizing teachers in high-dosage tutoring efforts, organizations can:
Improve equitable access to qualified teachers;

Strengthen immediate reading scores and long-term academic success of students; and

Deliver tutoring programs that can be personalized to the unique needs of each student.
Provide flexible options to increase
attendance and family engagement.

One of the most significant challenges for tutoring programs outside school hours is improving attendance rates. Attendance is critical for developing foundational reading skills, developing trust with your tutor, and building strong reading habits. However, 2022 reports show that many tutoring programs still need to meet attendance requirements. The Hechinger Report shared that of 1,200 Tennessee students participating in high-dosage tutoring from a national tutoring provider, fewer than 20% received two or more tutoring sessions per week! The Tennessee Department of Education said it saw "much lower attendance rates for tutoring sessions scheduled before and after school."
At the same time, Hoot Reading tutoring programs saw an average attendance rate of 77% in the summer of 2022. Two critical factors to their success are flexible program delivery options and consistent parental engagement support.
Hoot Reading allows parents to choose the frequency, time, and day of lessons to ensure that tutoring fits within a family's busy schedule. They match each student with a teacher who has the same availability.
Additionally, families are provided with ongoing support, including:
Live help desk;

A proven engagement plan that offers parents consistent and concise information and free learning resources;

Inclusive reading supports such as their library of 2,000+ decodable and complex multi-genre texts; and

Progress reports to help parents better understand their child's needs and accomplishments.
"Resources within a tutoring program can drastically improve the impact and results of a program. Research tells us that when students can see themselves within a story, they are more likely to connect with the book and reading. We created our own evidence-based decodable book collection that prioritized diverse characters and storylines. The impact resulting from our intentional resource and engagement efforts has been astounding."

- Maya Kotecha, Co-Founder and Co-CEO at Hoot Reading

Use data to evaluate and improve
literacy strategies continuously.

Lastly, school districts and organizations can leverage impact data to ensure that their high-dosage tutoring programs outside of school are impactful and equitable. In addition to attendance and engagement, organizations can look at data to see specific skill development, trends across schools or regions, and opportunities to customize educational programming to address student needs.
For example, one of Hoot's school district partners in Ontario leveraged assessment and impact reporting services to make evidence-informed decisions about their programming beyond school hours. They used their program data to determine which students should receive additional program cycles. In the end, this resulted in students scoring 97% higher in reading skill assessments, with 45% improving their reading skills by 10 points or more!

High-dosage tutoring beyond school
hours results in literacy gains

Hours outside school are critical for students to advance their literacy skills. To make the most of this time, school districts and organizations must improve attendance and engagement rates of high-dosage tutoring programs. Evidence-based literacy instruction by qualified teachers, flexible and inclusive delivery options, and intentional impact data will improve literacy outcomes for students across North America.
About Hoot Reading
Hoot Reading is the leading online tutoring service providing 1:1, evidence-based literacy instruction with qualified teachers. Incubated on a research project at the Nokia Research Lab with Sesame Workshop (the creators of Sesame Street) and the Joan Ganz Cooney Center, Hoot Reading partners with school districts across North America to change children's lives through literacy.
Are you interested in advancing literacy in your district? Learn more about our Hoot Reading Programs.